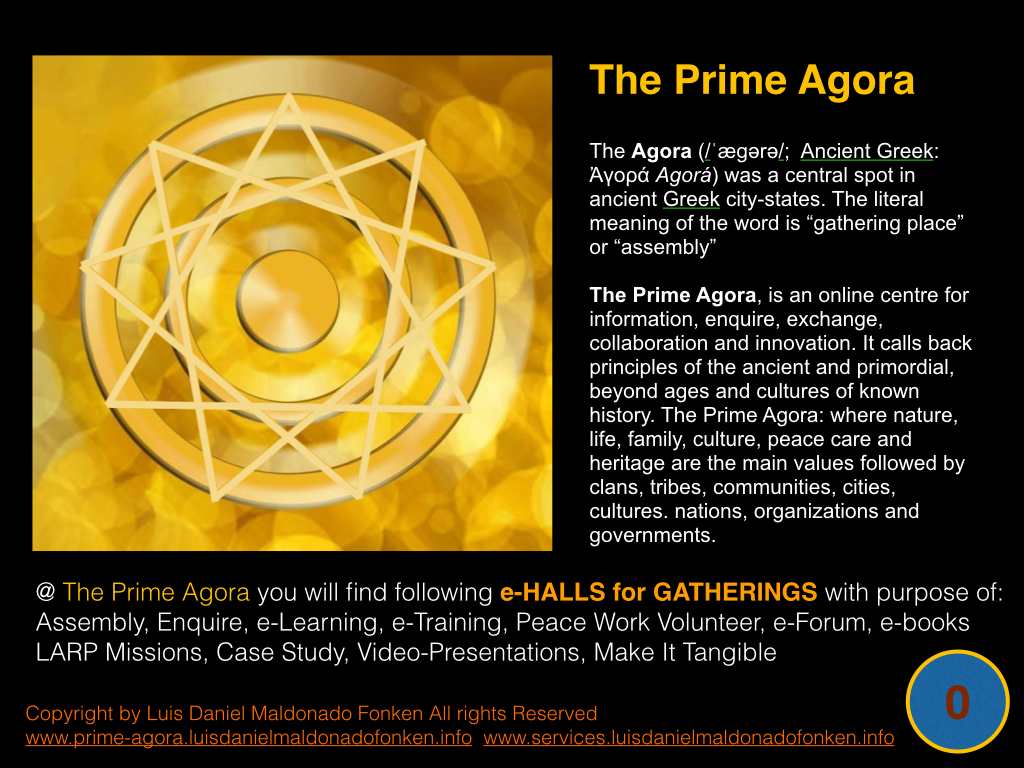 THE GREEK AGORA
The literal meaning of the word AGORA is "gathering place" or "assembly". The agora in Greece was the centre of athletic, artistic, spiritual and political life of the city. The Ancient Agora of Athens was the best-known example.
THE PRIME AGORA https://www.trainengage.com/Home/Course/3088
The PRIME AGORA is an online centre for information, enquire, exchange, collaboration and innovation. It calls back principles of the ancient and primordial, beyond ages and cultures of known history. The Prime Agora: where nature, life, family, culture, peace care and heritage are the main values followed by clans, tribes, communities, cities, cultures. nations, organisations and governments.
The Prime Agora is dedicated to assembly and e-learning from the point of view and on topics suggested as relevant for the care of peace, family, culture, life and heritage; as suggested by the Prime Culture, (Primordial culture of human kind) and its wisdom, knowledge and technology (Prime Technology): www.prime-culture.luisdanielmaldonadofonken.info www.prime-peace.luisdanielmaldonadofonken.info www.primetech-bootcamp.luisdanielmaldonadofonken.info. www.prime-corporation.luisdanielmaldonadofonken.info
FOCUS
The Prime agora will focus on prime culture and prime technology applications for the development of prime corporations ( Prime business), and prime culture  www.prime-corporation.luisdanielmaldonadofonken.info.
As well the Prime Agora will be dedicated to study within its main focus to the fields of peace, family, culture, life care and heritage, global sustainable development, multicultural development and integration, global citizenship, human civilization upgrade, science, technology, education, arts, human rights, ethics, governance, prime self union.
SEASON TOPIC @ Prime Agora 2015 Fall
PRIME PAX  www.prime-peace.luisdanielmaldonadofonken.info 
Every season a main topic will be suggested. The Topic for main discussion this season will be : The Prime Peace (Peace based on primal, primordial life and nature principles) is suggested by LUIS Daniel Maldonado Fonken as the solution for human species survival, evolution, civilization upgrade. Prime peace is designed,  implemented, developed, from the point of view of the prime culture and by the application of prime technology and the principles that governs it. Prime peace projects are dedicated to care for peace, family, culture, life and heritage
Please review as well the Prime Corporation: www.prime-corporation.luisdanielmaldonadofonken.info  Prime Corporation is the name used in general for the design of a business, or project or government based on nature principles, nature laws, human heart based consciousness, prime peace (prime pax) and family.
PRIME PAX, Peace Eirene/aɪˈriːni/; Greek: Εἰρήνη, Eirēnē, [eːrɛ́ːnɛː], lit. "Peace"). She was depicted in art as a beautiful young woman carrying a cornucopia, sceptre, and a torch or rhyton. She is said sometimes to be the daughter of Zeus and Themis. Her Roman equivalent was Pax.
e-LEARNING & e-FORUM
At the Prime Agora, the modules for assembly, discussion or training are organized in  "HALLS". dedicated to:
AGORA
Enquire, sharing, discussion on modern necessary topics that impact human kind in the fields of peace, family, culture, life care and heritage.
Nine+ fields of study of human societies and cultures, scientific and social, spiritual and personal development world wide. 9+ complexity of human factor individual and collective. How the current events and those from human history change our future and the destiny of human species.
Solutions with tangible impact in human kind, global culture, are presented.
E-LEARNING & LARP PLAYING
Tools for Self-assessment, indicators of the Prime Tech Standard. How ready are you for becoming a peace worker and  and manage a prime corporation or prime business? how to care for pace, family, culture, life and heritage?
GYM9 Trainings that will help you enhance or develop new abilities. 9 Minutes trainings you can do every day.
LARP Life Action Role Play missions designed to help you understand, discover, explore or solve issues of global importance along your daily life journey.
Unique GYM9 Trainings core practices in Prime Tech, Prime Culture and Prime Corporation trainings
VOLUNTEER
A foundation training for a prime peace activist and volunteer. You live abroad traveling or active on the internet, you may like to play a role of positive influence in your location.  Prime Peace volunteers and activists care for providing training and resources to locations around the world and online, where peace is needed; as for in 2015 it means every one of the countries and locations of earth planet where humans live.
RANKING & ASSESSMENT
By Applying the Prime Tech Standard, indicators for assessment, according to your participation, completion of tasks, workbooks, modules or rooms, you will receive points and the possibility to become eligible for a Rank Training. Along the rank training you will receive specialised training, tools and missions, for a rank assessment. After the assessment you will be able to engage into prime peace projects.
PROGRAM
Every season modules may change or be added
PRIME AGORA: Topic of the season/month, discussion moderated based on the 9 elements. Participants are welcome to suggest their solutions and join collaboration.

Welcome
Prime Agora communication and collaboration rules
Topic of the month/season presentation
Moderated discussion
Suggestion of solutions
Collaboration workshops

Prime Agora Enquire 101. Review of 9+ key enquire modules
Prime Agora LARP. Basic rules,how to play the game ?
Prime Peace 101
Prime Peace & Global Sustainable Development 101. Enquire 9+ modules for each field
Prime Culture 101.
Prime Technology 101.
Prime Tech Applied 101. Make it tangible: (Prime Tech EXPO) 9+ enquire modules for: Prime love, Prime Arts, Prime Do, Prime Nurturing, Prime Corporation, Prime Yoga, Prime Travel, Prime Land, Prime Peace, Prime Games, Prime Rank, Prime Language, Prime Archeology …
Prime Tech Standard, Prime Rank, Assessment tools
e-Books review. Discussion and training on e-books content ( The Golden Age Library )
Video and Films review. Discussion and training on videos and films content ( The Golden Age Library )
Arts, media review ( The Golden Age Library )
Culture & Civilization
Prime Agora Collaboration Space.
TRIAL
Up to 9 modules or tasks, in total, within any or some of the Halls of the Prime Agora.
PLAY THE GAME
By completing modules, taking missions, or participating in discussions, attendees will receive points that can be trade by gift certificates.  For example Gift certificates for 9 more tasks.
PRICE
50.00 / Quartal ( 3 months ) (*)
TRADE POINTS
Play the game, gain points and trade them for quartals.
Luis Daniel Maldonado Fonken
PEACE WORK TIME LINE
LUIS has been living abroad traveling since 1997 and providing training since 1987, author and public spiritual teachings since 2007. Has been dedicated to the research of mythological and ancient cultures, as well to the development of a technology based on nature principles and human consciousness, and its applications for peace, family, culture, life care and heritage.
In 2011, after several years living abroad and traveling as an entrepreneur and working as business consultant, trainer, coach; LUIS decided to apply all his knowledge and experience to peace. The development of his peace work had the following stages, until reached total integration with prime technology and prime culture know how as Prime Pax, or Prime Peace in 2015.
2012, Austria, Living Abroad Traveling, Peace Author
2013, Germany, Presse Huette Mutlangen, Development (upgrade) trainings: 1. non violence, 2. emotional self-management, 3. conscious sexuality 4. prime do martial art for peace 5. the art of peace
2014, Russia, Peace work, training on nature principles applied for community building and project development, and non violence practices
2014, Finland, Peace work, 9 gatherings of peace, Training on non violence and peace: The art of peace ( 27 hrs production meditative arts for peace performance and lectures audio recordings)
2015, Finland, Online, "All you need is love", peace campaign. Meditative conscious love making and foreplay with the heart for peace.
2015, Finland. Prime Pax, Prime Peace. www.prime-peace.luisdanielmaldonadofonken.info